Why choose PSI?
Since 1998, customers have trusted PSI to meet their oil-water separator needs.
Here are some reasons why:
Outstanding Service
At PSI, we don't just offer the best oil-water separators in the industry, we also provide you with the best personal service. We pay strict attention to every detail of a job – from quotation to final delivery – because we know our customers do too. We're not satisfied until you are, and will make sure that all that's in our control, is done right the first time.  
100% Focus on Oil-Water Separators
All we do is design oil-water separators. So we put 100% of our effort, education and 20+ years of experience towards designing oil-water separators that have the capability, dependability and versatility to meet your needs. Consequently, our oil-water separator performance is unsurpassed on the market today. 
One Stop Shop
PSI is your one-stop shop, where you can choose from a wide range of separator sizes and configurations including cylindrical and rectangular designs for above grade and below grade applications. Our abilities range from preparing the basic design to delivering a complete project on a turnkey basis. We also provide lift stations, control panels, pumps, level sensors, leak props, shut-off valves, you name it.  We even sell spare parts.  We can package it all together and customize it to fit to your needs.  
Competitive Prices
Our products are designed to provide a quality solution at a competitive price, giving you a cost-effective choice in your oil-water separator needs. 
Quality Assurance
PSI's oil-water separators are designed with reliability in mind. For example, our separators have longer warranties than that of most competing units.  We offer oil-water separators with enhanced coalescing technology and we guarantee 10 PPM separation on standard models (5 PPM with other models). Our cylindrical oil-water separators are designed in accordance with UL-58, UL-142 and UL-1746 construction standards. Steel single wall, double wall, and cost effective UL listed fiberglass jacketed secondary containment construction designs are available. For buried installations, PSI can provide UL-1746 listed fiberglass or STI-P3 corrosion protection systems. Both systems include a 30-year warranty against external corrosion failure – guaranteeing a long lasting, high quality product.
Easy Maintenance
It couldn't be any easier to maintain a PSI separator. Our separators include corrugated plates inclined upwards at a 45º angle to prevent sludge build-up. The sludge baffle in the separator is located below the round manway for easy and direct access from grade for removing sludge accumulation without entering the vessel. The polypropylene coalescer is also easy to maintain since it is located as far away from the corrugated plate pack as possible. The location of this coalescer ensures that it has limited oil and solids loading – unlike some competitor's designs. And the polypropylene coalescer has a design life of over 10 years. This is "self-unloading" of oil and only needs periodic cleaning to remove suspended solids.  The polypropylene media coalescer is housed in a manway that spans the entire cross section of the manway and does NOT require entrance into the vessel for removal or reinstallation of the coalescer unlike some of our competitors designs.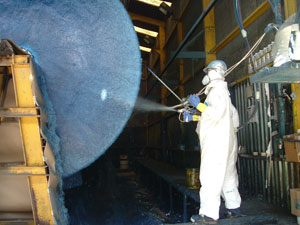 FRP Application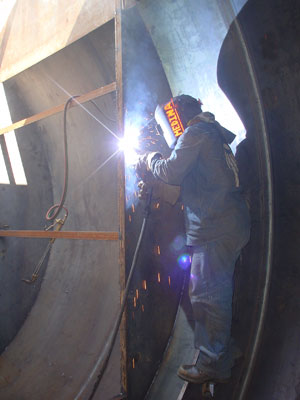 Quality Tank Construction